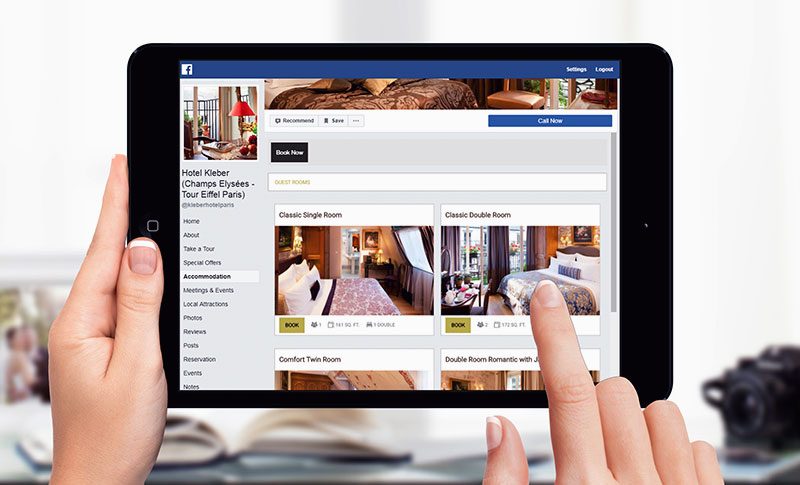 One of the most powerful marketing channels, Facebook can hardly be ignored. Here are 10 essential tips for success on Facebook. And it doesn't take too much time. Try it!
Why do you need Facebook?
It's not a nice-to- have anymore. Facebook, along with other social media platforms, are becoming crucial for businesses of all sizes. Consider these statistics:
1.86 billion monthly active Facebook users worldwide. 1.15 billion mobile daily active users! (Source: Facebook as of 02/01/17)

Five new Facebook profiles created every second. (Source: ALLFacebook 2012)

300 million photo uploads every day. (Source: Gizmodo)

Every 60 seconds on Facebook: 510,000 comments are posted, 293,000 statuses are updated, and 136,000 photos are uploaded. (Source: The Social Skinny)

Average time spent per Facebook visit is 20 minutes. (Source: Infodocket)
Need we say more about why your property needs to be on Facebook? There's a ready audience for your property amidst the billions of Facebook users. You just need to know how to talk to them.
Let's look at some simple and free ways you can do this, turning your property's Facebook page into a successful PR machine and leads generator.
1. Accurate and updated profile information
Make sure the information on your Facebook page is consistent with what you're saying about yourself on other channels. It also needs to be correct. An incorrect phone number or website address means the potential loss of a lead. Make your overview informative and fun – keep it different from competitors.
2. Excellent images and videos
Your Facebook page is your shop window. If you don't dress it up attractively, passersby won't step in.
Your profile picture comprises of a thumbnail sized photo – great for logos – and the main image. Make sure you have a high resolution and impactful main image. Display your TripAdvisor awards (if any) on this spot. You can also have a short video (up to 7 seconds) instead of a main image. Bear in mind that it should be high impact, so best you leave it for a professional to create. Also currently this video can only be uploaded from iPhone or Android.
Ask your guests if you can take photos with them and tag them – it's a great way to reach their friends.
3. Have a call-to-action
Facebook allows you to have a customisable blue call-to- action button under your property name and images. Use it! Include a Book Now button that will take users directly to your website for a direct booking.
4. Enable and encourage online reviews
Incentivise your guests to leave reviews online. TripAdvisor is great, but so is Facebook. This platform even allows you to directly communicate with the guests. So if someone does leave a negative review, you can connect with them via a direct message to address the issues.
5. Engage and be responsive
Talk to your fans online. Thank them for good reviews. Apologise when expectations are not met. And if someone sends a query, address it at the earliest.
Be sincere. Be responsive. Be humble.
6. Build interesting content. Get smart about content management
Remember you're having a social conversation. And you'll lose your fans' interest pretty quickly if you only talk about yourself and in 'brand language'.
Follow an 80/20 principle, 80% discussions geared towards your audience and about them, 20% self promotion. Share lots of images and videos – users love it! Talk about interesting activities around you. Most importantly, post regularly – at least once a week.
7. Effective posts management
Facebook offers a Publishing Tools function for you to effectively manage your posts. You can use it to make your posts stand-out. For example if you have a deal to promote, use Facebook's Offer Post style (available within Publishing Tools). These templates have been tested for effectiveness. The Publishing Tools can also be used to schedule future posts, saving precious time.
You can also consider platforms such as Hootsuite to manage your Facebook account as well as other social platforms. It is free to use for up to three social profiles and is a great way to 'listen' to what competitors and locals are saying, sharing content, scheduling posts and getting insights. It makes social media management a breeze!
8. Offer giveaways to your loyal fans
It is important to incentivise your fans from time to time to keep them engaged. Not only will this retain the attention of your loyal following, it will present an opportunity to grow your fan base. Get creative with your offers – partner with other local operators to create a substantial offer or leverage distressed inventory to your advantage.
9. Link to your TripAdvisor account
Got great content and reviews on TripAdvisor? Why not share it with your Facebook friends and visitors by installing the TripAdvisor Traveler Reviews Facebook App.
By installing this app, you'll able to leverage existing TripAdvisor content, like traveller reviews, ratings, percent recommended statistics, awards (if applicable), your property's primary image and a slideshow of your photos. Plus, travellers can now write reviews for your business right from the app.
10. Load your customer database to Facebook
You can target your existing database of customers on Facebook by uploading them to your account. All you need to do is create a Custom Audience in Facebook Ad Manager, then create a Lookalike Audience based on this custom audience to multiply your target audience.
In fact, over time familiarise yourself with Facebook Ad Management and creating audience groups, reading insights and seeing which groups are most cost effective for you.